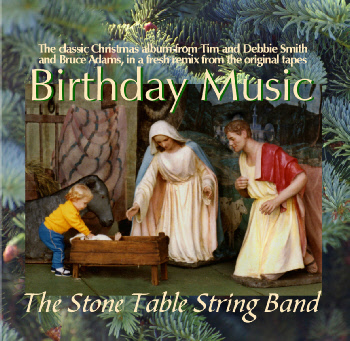 A Christmas Folk Classic in a Fresh New (2011) Digital Mix
The Stone Table String Band is me and a few of my like-minded musician friends, who seek out meaningful songs both new and old and present them with a fresh, folk-rock twist. From 1980 to 1993, the "band" was a recording configuration of my multi-tracked vocals and instrumentals, assisted by Bruce Adams on bass, and occasionally joined by my wife Debbie adding vocals. We produced three hour-long cassettes of music during those years, and gave them out as Christmas gifts. Now the best of those tracks have been digitally re-mastered and released on CD for the first time, as "Birthday Music" (an album of Christmas songs) and its companion album called "If Not For Love/Old Tracks" available here.
The cover of "Birthday Music" shows Tim and Debbie's daughter Kirstin in 1983, with a 2007 photo of Sitka spruce as background.
Sound samples from "Birthday Music"
Come On, Ring Those Bells (Culverwell) SAMPLE
Winter's Glow (Timothy Smith) SAMPLE
Why Isn't Everybody Singing Allelu? (Gamble) SAMPLE
He Came in Love (Owens) SAMPLE
CAROLS FROM AROUND THE WORLD:
Oh Come Little Children (Germany) SAMPLE
Holy Angels Tell Your Story (Russia) SAMPLE
Birthday Of Our King (America 1800's) SAMPLE
Follow Now Oh Shepherds (Puerto Rico) SAMPLE
We Wish You a Merry Christmas (England) SAMPLE
The Virgin Mary Had a Baby Boy (Caribbean) SAMPLE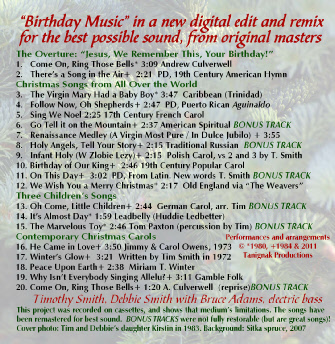 The track list panel from "Birthday Music" also lists the sources of the songs.
To Order This CD (Postage Paid Worldwide)
Click On The Graphic Below: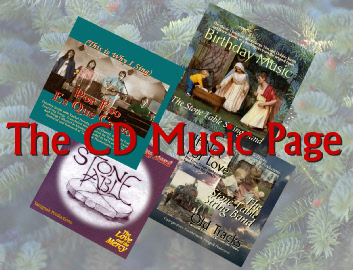 "Birthday Music" CD Sound Samples
By Timothy Smith, Originally posted in 2011, latest revision in 2020
"Birthday Music" Sound Samples
One of the Original CD's Offered at Tanignak.com
Tanignak Productions Presents:
The "Birthday Music" Christmas CD
Sung By The Stone Table String Band
For more about Jesus Music, Camp Woody, or historical articles of Kodiak Island and village life, including many more historic photos, please follow the links in the photos below.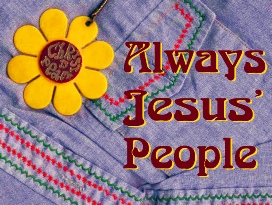 To Find Out More About Tanignak.com, Click HERE
To Visit My "About Me" Page, Click HERE
To Return to Tanignak "Home," Click the Logo Below: