Wilson McKinley Music Page
The Wilson McKinley Music Page (Ordering Information)
To Hear a Short Sound Sample, Click On The Logo Below:
How to use this page:
• Each album has its logo, with sound samples and product information beside it. Below each logo is the PayPal ordering information. Scroll through, listen to the sound samples, and order through PayPal or mail and check.
• At the bottom of the ordering page is info on how to purchase the Obscure Oxide / Lion Productions reissues of Spirit of Elijah and Heaven's Gonna Be a Blast (from us or them).
Message Brought to Us WM-7079-1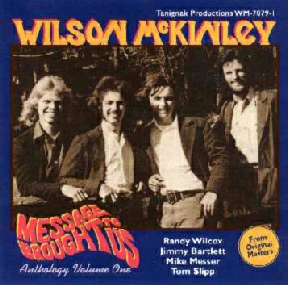 Message Brought to Us (1999) was the first CD release from original master tapes, with the band's blessing. Includes personal favorites of the band, and six (of eight) tracks from the ultra-rare Country in the Sky cassette, but dubbed from the original four-channel master reels! There's also one previously unreleased practice song. A great value!
Message Brought to Us Sound Samples
You Gotta Hear About My Friend — from the 1970 LP, On Stage
The Love of My Saviour — from On Stage
Country in the Sky — title track from the 1973 cassette-only release (but remixed from 4-track reel masters!)
I See with Different Eyes — from Country in the Sky cassette (4-track reel master)
NOTE: this CD has 9 tracks that are not on the double-CD album. It is offered at a very low price, or can be purchased with Now I'm a Jesus Freak as a set. Besides the six Country in the Sky and tracks from On Stage, another unique thing about this CD is the liner notes about every song, from interviews with band members and ministry leaders.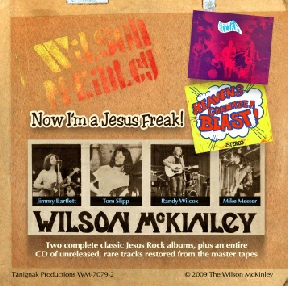 Now I'm a Jesus Freak (2009) is a double-CD set with all of Spirit of Elijah and Heaven's Gonna Be a Blast, the remaining two Country in the Sky tracks, and one track from Yesterday / Forever, all from original master tapes. And that's only disc one! Disc two is chock full of unreleased tracks: live songs from the "I Am," multiple unreleased practice songs from 1970 and 1973, and five new recordings: two by Randy Wilcox and three by Mike Messer! An instant collection!
Now I'm a Jesus Freak WM-7079-2
MORE TO COME!
Check out A-B comparisons between the original LP's and the Tanignak Productions mix!
Preview the upcoming Rolled Away the Stone Album
Order new LP's (unmixed masters, original artwork) here or from Obscure Oxide / Lion Productions
Follow the Links to Rare Samples, the WM Story, and More!
Best Value: Both Albums at a Special Price:
A - B Comparisons between my original LP copies of Spirit of Elijah and Heaven's Gonna Be a Blast (short samples of four songs in two mixes)
Crown of Glory — notice the original extreme reverb on the LP, and the clarity of the remix. You may also notice that the LP was pressed in stereo-reverse. My remix restores the original spatial balance.
His Eye is On the Sparrow — as above. As nice as this song sounds with reverb, it is so much clearer in the remix, and the instruments (again, stereo-reversed) have full detail.
I Wish I Had the Words to Tell You — the heavy mid-bass and weak treble make for a muddy mix on the LP. You may notice a huge dropout in the verse. The CD version pops with clarity, and the bass moves into the normal range. Note: the instruments were recorded in mono (center) with the vocals and percussion in stereo.
Like a Warm Summer Day — the LP was especially muddy on this track. The CD version practically puts the listener in the studio with them! The instruments were in true stereo here, but the opening piano chords suffered from extreme dropouts and tape flutter. Thankfully, the original master tape had no dropouts.
Rolled Away the Stone Sound Samples
Won't You Come — Gonzaga University, November, 1970
Won't You Come and Go With Me — Gonzaga University, 1970
He is a Friend of Mine — "I Am" coffee house, Spokane, 1971
You Ask Me Who Is He — "I Am" coffee house, Spokane, 1972
We are the Children / King of Love — "Moby" rock concert, Coeur D'Alene, Idaho, 1971
Wayfaring Stranger — "Moby" concert, '71
(Many more fantastic performances!)
Coming in 2020: Rolled Away The Stone
The Wilson McKinley Live and in Stereo, 1970 — 1972
The Wilson McKinley Have Returned (On Vinyl)!
Both Spirit of Elijah and Heaven's Gonna Be a Blast albums are now available on high-quality vinyl, utilizing unedited original master tapes, far clearer and more vivid than the muddy, scratchy, over-processed original records! The extensive liner notes and photos, as well as the album scans and master recordings, were provided by Tanignak.com.
Lion Productions and Obscure Oxide have released the LP's for the collector market, with our full cooperation, and they are gorgeous! The photo below shows my preview copies with the original artwork, our inserts, and the vinyl with original labels. Only a small logo on each LP identifies it as a reissue. I also scanned the two promo stickers provided by Lion Productions, because they were printed too small (Jade Hubertz at Obscure Oxide says that's their only "oops" in this production). Hopefully they are clear enough to read here!
Tanignak.com has a limited number of these vinyl releases, sold only as a two-LP set. Should you wish a single title, please contact Jade Hubertz of Obscure Oxide at jhubertz@netdirect.net and arrange to purchase a single title.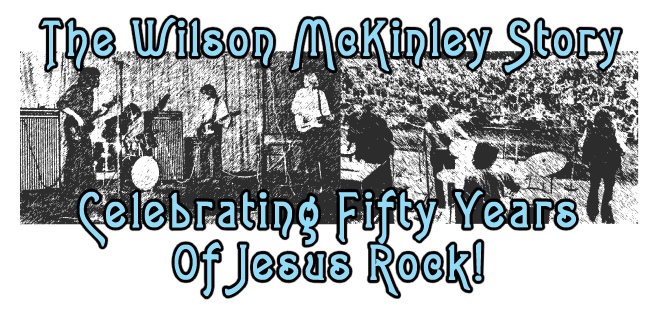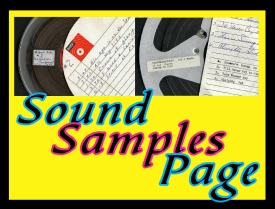 LINKS:
Click Above for "The Wilson McKinley Story"
Click Right for Sound Samples and Stories Behind the Songs and Recordings
Click the Fifty Years Logo Below to Return to the Wilson McKinley Info Page
To Find Out More About Tanignak.com, Click HERE
To Visit My "About Me" Page, Click HERE
To Return to Tanignak "Home," Click the Logo Below:
The audio songs and samples on Tanignak.com are copyright their respective owners and are used with permission. All Wilson McKinley tracks are administered by Tanignak Productions unless otherwise noted. Tanignak Productions uses proceeds from CD sales for royalties or for production of future albums, according to the band's direction.
Information from this site can be used for non-commercial purposes with attribution. The text of all the articles on Tanignak.com and TruthTexts.com are copyright 2020 by Timothy L. Smith (see the "About Tanignak.com" link). The photographs are copyright the estate of Rev. Norman L. Smith, or are copyright Timothy L. Smith unless otherwise attributed. Many thanks to the people who have shared their stories and those who have allowed me to use their photographs on Tanignak.com!