Wilson McKinley Music Page
The Wilson McKinley Music Page (Ordering Information)
To Hear a Short Song Medley, Click On The Logo Below: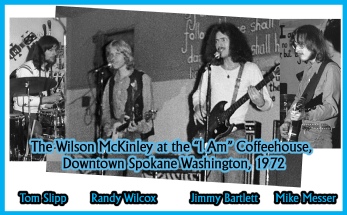 How to use this page:
• Each album has its logo, with sound samples and product information beside it. Below each logo is the PayPal ordering information. Scroll through, listen to the sound samples, and order through PayPal or mail and check.
• See below for the new (2021) album of live tracks: Rolled Away the Stone! (Live! 1970 - 1979). – BEST PRICE ON THE WEB!
• Important Note: Regrettably, Both Domestic and International Shipping Rates Have Greatly Increased. We Can't Afford to Include Free Shipping. We Have Added Current Shipping Amount For Each Item. But Our Prices Are Still Better Than Anywhere Else On The Web!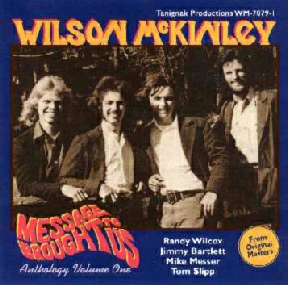 Message Brought to Us (1999) was the first CD release from original master tapes, with the band's blessing. Includes personal favorites of the band, and six (of eight) tracks from the ultra-rare Country in the Sky cassette, but dubbed from the original four-channel master reels! There's also one previously unreleased practice song. A great value!
This CD is a great (and less expensive) intro to this legendary Jesus Rock band, filled with the band's personal favorites!
- Timothy Smith, Tanignak Productions
Message Brought to Us Sound Samples
You Gotta Hear About My Friend — from the 1970 LP, On Stage
The Love of My Saviour — from On Stage
Country in the Sky — title track from the 1973 cassette-only release (but remixed from 4-track reel masters!)
I See with Different Eyes — from Country in the Sky cassette (4-track reel master)
NOTE: this CD has 9 tracks that are not on the Now I'm a Jesus Freak album (such as the four samples above). It is offered at a very low price, or can be purchased with Now I'm a Jesus Freak as a set. Besides the six Country in the Sky and tracks from On Stage, another unique thing about this CD is the liner notes about every song, from interviews with band members and ministry leaders.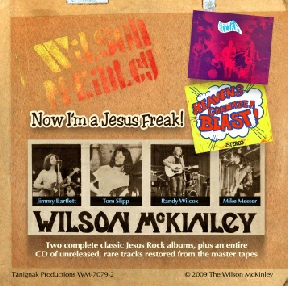 Now I'm a Jesus Freak (2009) is a double-CD set with all of Spirit of Elijah and Heaven's Gonna Be a Blast, the remaining two Country in the Sky tracks, and one track from Yesterday / Forever, all from original master tapes. And that's only disc one! Disc two is chock full of unreleased tracks: live songs from the "I Am," multiple unreleased practice songs from 1970 and 1973, and five new recordings: two by Randy Wilcox and three by Mike Messer! An instant collection!
Now I'm a Jesus Freak WM-7079-2
"If the Wilson-McKinley were still together they'd continue blazing musical trails. Get this recording...for yourself; your children; your grandchildren. This, here, is Christian Rock history at the roots...early '70's. I know. I was there with them. And what a blast it was to hear them. Enjoy!"
– Bruce Schlettert, former editor of the Truth newspaper, from a 2009 email.
Best Value: Both Albums at a Special Price:
The Wilson McKinley Has Returned (On Vinyl)!
Both Spirit of Elijah and Heaven's Gonna Be a Blast albums are now available on high-quality vinyl, utilizing unedited original master tapes, far clearer and more vivid than the muddy, scratchy, over-processed original records! The liner notes and photos, as well as the album scans and master recordings, were provided by Tanignak Productions.
Lion Productions and Obscure Oxide have released the LP's for the collector market, with our full cooperation, and they are gorgeous! The photo below shows my preview copies with the original artwork, our inserts, and the vinyl with original labels. Only a small logo on each LP identifies it as a reissue. I also scanned the two promo stickers provided by Lion Productions, because they were printed too small (Jade Hubertz at Obscure Oxide says that's their only "oops" in this production). Hopefully they are clear enough to read here!

Tanignak.com has a limited number of these vinyl releases, sold only as a pair of LPs. Should you wish to purchase only one of the records, please contact Jade Hubertz of Obscure Oxide at jhubertz@netdirect.net and arrange to purchase a single title.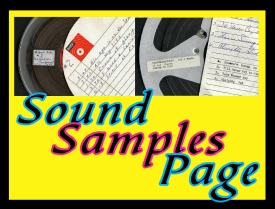 LINKS:
Click Above for "The Wilson McKinley Story" With Photos and Sound Samples.
Click Right for Unreleased Rarities and NEW Mixes of the Best of the Wilson McKinley!
Click the Fifty Years Logo Below to return to the Wilson McKinley Info Page
To Find Out More About Tanignak.com, Click HERE
To Visit My "About Me" Page, Click HERE
To Return to Tanignak "Home," Click the Logo Below:
The audio songs and samples on Tanignak.com are copyright their respective owners and are used with permission. All Wilson McKinley tracks are administered by Tanignak Productions unless otherwise noted. Tanignak Productions uses proceeds from CD sales for royalties or for production of future albums, according to the band's direction.
Information from this site can be used for non-commercial purposes with attribution. The text of all the articles on Tanignak.com and TruthTexts.com are copyright 2022 by Timothy L. Smith (see the "About Tanignak.com" link). Many thanks to the people who have shared their stories and those who have allowed me to use their photographs on Tanignak.com!
Message Brought to Us WM-7079-1
The Wilson McKinley's First Digital Release From Master Tapes!
Released December 2021: Rolled Away The Stone!
The Wilson McKinley Live, CD 1 in Stereo, CD 2 in mono, 1970 — 1979
WM-7079-3 Double-CD Album
"You did a superb job on these recordings. It's as close to hearing the band in person as you could get. This is the crowning achievement of everything released thus far."
– Mike Messer, Jan. 14, 2022
Photos: Mike on stage, '70, and taking a break while recording Spirit of Elijah, '71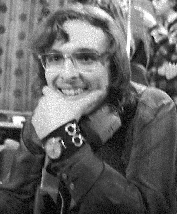 It took almost ten years to source, edit, and restore these tracks. The WM were at their best live, as these two career-spanning CD's (one in stereo, one in mono) demonstrate. A 14-page booklet has full source and track data, as well as a short history of the band and its impact. Released December, 2021. Limited run of only 500 copies!
Rolled Away the Stone! Sound Samples Disc One (Stereo)
Rolled Away the Stone — "I Am" coffee house, Spokane 1971
Won't You Come — (stereo) Gonzaga University, November 1970
Almighty God — (stereo) Gonzaga University, November 1970
You Ask Me Who Is He — (stereo) "I Am" coffee house, Spokane 1972
I Know He Saved My Soul — "I Am" coffee house, Spokane 1971
I Think We'd Better Follow— "Silver Valley," Kellogg, ID 1971
We are the Children / King of Love — (stereo) "Moby" concert, Coeur D'Alene, ID 1971
Rolled Away the Stone! Sound Samples Disc Two (Mono Bonus Tracks)
He's Coming to Take His Children — (mono) Vancouver, BC (from On Stage) 1970
Isn't It Amazing — (mono) Calgary, Alberta 1974
We See Jesus Coming — (mono) Fort Wayne, IN 1975
My Life's Foundation — (mono) "The Ranch," NW of Spokane 1979
Spirit of Elijah— (mono) "The Ranch," NW of Spokane 1979